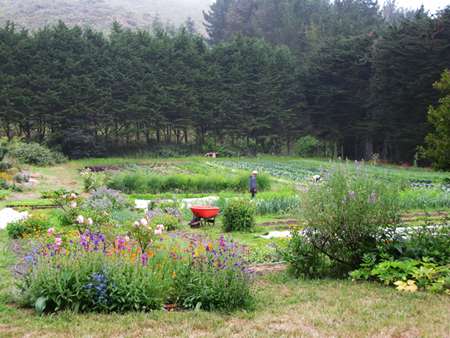 Wow, I never put it together that I'm the same age as the San Francisco Zen Center — what a nice little coincidence! We're having a big benefit bash at Green Gulch on Saturday September 8 to celebrate the milestone, and to pay homage to the incredible farming that's gone on at Green Gulch for much of that time. These zen-inspired farmers were way, way ahead of their time, and have been doing sustainable organic farming for the past 40 years. The farm-to-table luncheon will feature GG produce in an elegant menu written by Annie Somerville, the charming and long-time executive chef of Green's Restaurant, and prepared by Aaron Jonas and paired with some very creative non-alcoholic cocktails specially created for the event by wine guru Mark Ellenbogen.
The event starts at 11 am, and goes till 2:30. Lots more info, including how to purchase tickets, here. For additional info about the event or even to sponsor it some form, contact Scott McDougall,  who happens to be a matcha maestro and incredibly nice person, at [email protected] And speaking of matcha, we're trying to arrange a tasting of our Blend 97 near the dessert course, so even more reason to book a seat or two. Proceeds from this event will help support the Green Gulch Farm Zen Center's Cloud Hall renovation project.
I'll be a featured speaker, as will legendary organic farmers Wendy Johnson and Sarah Tashker. Other speakers include CUESA's Dave Stockdale, and 18 Reason's Olivia Maki.
Don't miss it! Afterward you can take the surreally gorgeous walk from Green Gulch to Muir Beach, which has to be one of Marin's most magical. See you there!
Photo by Gyokuden Steph Wenderski